22L Ultrasonic Cleaner Stainless Steel Industry Heated Heater Dual Frequency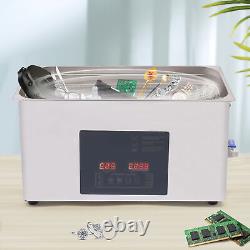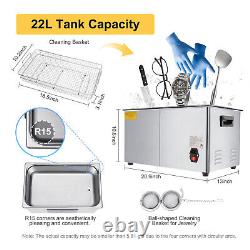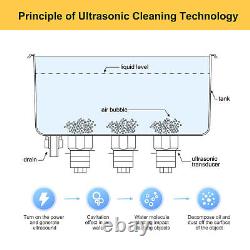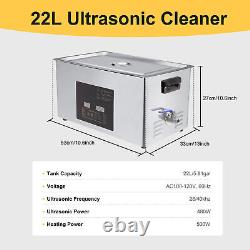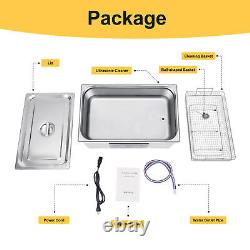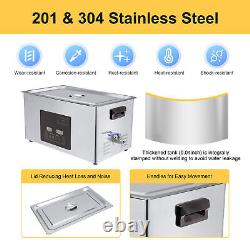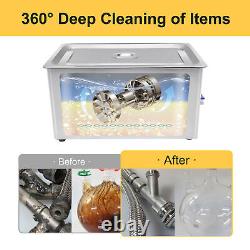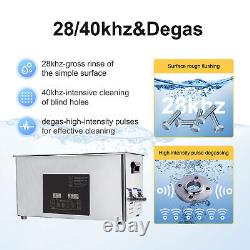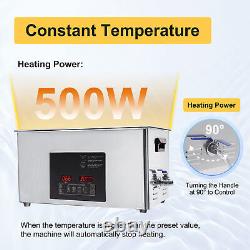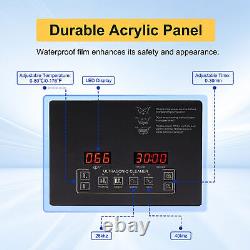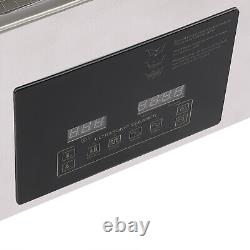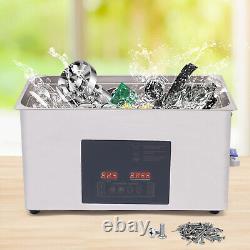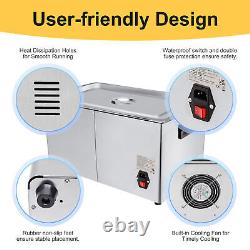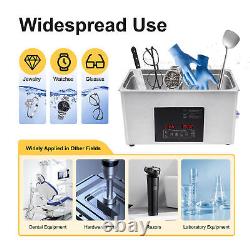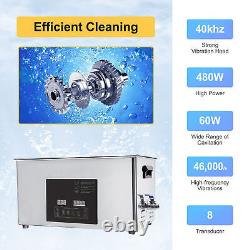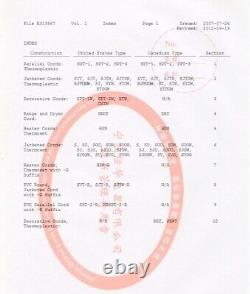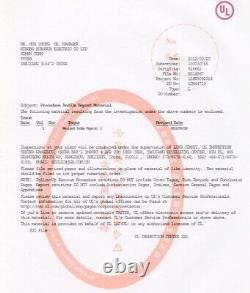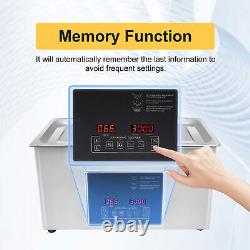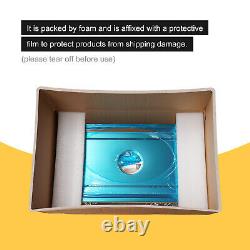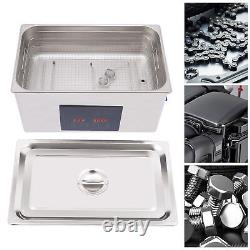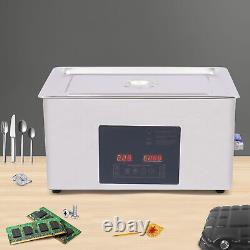 22L Ultrasonic Cleaner Stainless Steel Industry Heated Heater Dual Frequency. Traditional Hand Washing or Washing Machine Cleaning Is Difficult to Penetrate the Gap to Achieve All-around Cleaning. This Ultrasonic Cleaner Is Your Ideal Choice. It Is Mainly Composed of the Ultrasonic Generator, Line Controller, Transducer, and Cleaning Tank, and Is an Expert in Cleaning, Maintenance, Oxidation, Extraction, Cavitation, and Other Aspects, Which Enables It to Meet the Different Needs of Users.
This Machine Is Very Suitable for Home or Professional Use. The Cleaning Basket and Ball-shaped Basket Can Reduce Friction Between Items and the Machine During the Cleaning Process While Fixing Small Objects Such As Coins, Jewelry, and Watches in Proper Positions. Besides, the Round Hole Allows for Easy Water Drainage and the Drain Joint Is Equipped with a Valve to Control the Water Outlet Speed. It Includes Sweep(28khz), Turbo(40khz), and Degas Modes.
The Dual Working Frequency Can Be Used to Clean Different Items for Energy-saving. The 40khz Can Be Used to Clean Objects with Complex Shapes&Surfaces and Blind Holes, and 28khz Is Used for Small or Simple Projects. The Degassing Cleaning Mode Can Penetrate More Tiny Cracks with Greater Force and Better Effect. It Can Help Remove the Oxide on the Metal Surface so That It Is Not Easy to Oxidize and Can Be Stored for a Long Time. The 201 Stainless Steel Housing and 304 Stainless Steel Tank with an Electrolytic Process Can Resist Wear, Corrosion, Rust, Heat, Shock, and Deformation.
And the Thickened Tank (0.04inch) Is Integrally Stamped Without Welding to Avoid Water Leakage. Meanwhile, the Buttons Are Coated with a Film to Be Waterproof and Look More Beautiful, and the Power Cord Adopts Thickened Copper Wires with Good Conductivity to save Electricity. When the Temperature Is Higher than the Preset Value, the Machine Will Automatically Stop Heating. Besides, It Will Automatically Remember the Last Working Time and Temperature to Avoid Frequent Settings. Excellent Heat Dissipation: the Built-in Cooling Fan and Dense Heat Dissipation Holes on Both Sides Can Dissipate Heat in Time and Prolong the Service Life of the Product. It Uses an Industrial Strong Shock Head with High Power, Wide Cavitation Range, and High-frequency Vibrations, As Well As 8 Transducers to Generate Millions of Tiny Bubbles to Clean Items Thoroughly and Consistently Even for Cleaning Small Objects with Small Holes, Grooves, Etc. It Is Suitable for Cleaning Jewelry, Watches, Glasses, Tableware, Dental Equipment, Milk Bottles, Circuit Boards, Hardware Parts, Razors, Laboratory Equipment, Etc. It Can Be Used to Clean the Long Holes, Cracks, and Shields of the Workpiece and Is Mainly Used in the Laboratory, Food Industry, Biology Industry, Agriculture Industry, or Daily Necessities Industry. The Smooth Surface and Detachable Design Allow for Easy Cleaning.
Meanwhile, the Shell Is Embossed with Stainless Steel Embossing Process, so the Dust and Fingerprints Can Be Removed Immediately. Model: TH-SPQXJ-80A Color: Silver Material: 201&304 Stainless Steel, Rubber Shape: Rectangular Style: Modern Tank Thickness: 1.1mm/0.04inch Surface Treatment: Electrolytic Process, Integrated Stamping, Stainless Steel Embossing Process Voltage: AC100-120V, 60Hz Ultrasonic Frequency: 28/40KHz Ultrasonic Power: 480W Heating Power: 500W Power Type: Plug-in Plug: American Standard Number of Transducers: 8 Tank Capacity: 22L/5.81gal Heating Temperature: 0-80?
Working Time: 0-30min Noise: About 100dB Screen: LED Display Screen Mounting Type: Desktop Placement, Freestanding Net Weight: 12kg/26lbs Gross Weight: 12.6kg/27lbs Package Size: 634337cm/241614inch Product Size: 335828cm/1322.811inch Large Tank Capacity: The large tank (5.81 gal) can wash lots of items at a time to improve efficiency. It Outputs the Ultrasonic Frequency Oscillation Electrical Signal, Which Is Converted into High-frequency Mechanical Vibration Through the Transducer. This Vibration Is Introduced into the Cleaning Fluid and Produces an Ultrasonic Cavitation Effect.
It Produces Tens of Thousands of Tiny Bubbles, Which Are Formed at Negative Pressure, and the Positive Pressure Zone Closes Rapidly. The Bubble Closes to Form an Instantaneous High Pressure of Thousands of Atmospheres.
The Continuous Instantaneous High Pressure Is like a Series of Small "Explosions" Impacting the Surface Gap of the Object, Peeling off All Kinds of Dirt Stuck in the Surface Gap of the Object, Thus Realizing Thorough Cleaning. Since the Machine's Bottom Is Curved, the Actual Capacity May Be Smaller than 2.64 Gal. It Is Recommended to Use a Cleaning Temperature of 104-140?
Please Note That the Machine Can Only Work Under 110v Voltage with Good Grounding. Please Read the Manual Completely Before Installation and Use, and Pay Particular Attention to the Safety Instructions Included. Please Allow the Slight Color Difference Caused by the Shooting Light and 1-3cm Error Due to Manual Measurement, and Make Sure You Do Not Mind Before Ordering. Feedback is very important to us. It is impossible to address issues if we do not know about them!
Faction is our ultimate goal. We work hard to earn your trust and future business.
A If you receive a defective item, you may return it or ask for a discount. Due to time zones, our reply to your questions may not be immediately. If it's non-workdays, please kindly be patient and wait till Monday.

---