4.5 L Ultrasonic Cleaner S30d 180w Heated 300w 80 Degrees With Basket In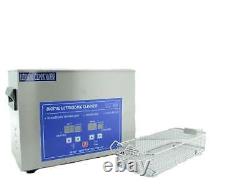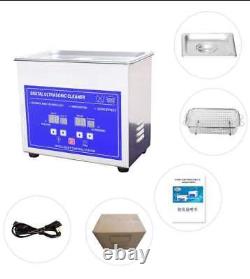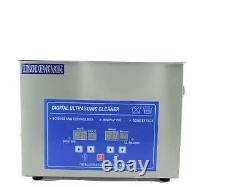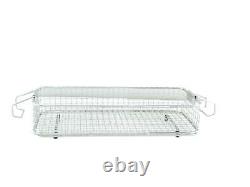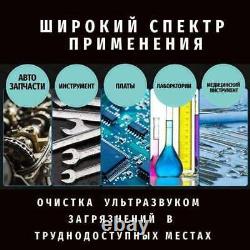 The cleaning process takes place due to cavitation the process of formation and subsequent collapse of bubbles in the liquid. It is usually used for ultrasonic cleaning of solids in washing solutions, but it can also be used to speed up physical and chemical processes in liquids mixing, dissolving, emulsifying, extraction, decontamination, etc.
Ultrasonic cavitation removes various dirt very quickly and effectively, even from extremely hard-to-reach places. Thorough cleaning in ultrasonic baths takes a short time - a few minutes, and its efficiency exceeds other mechanical cleaning methods. Ultrasound provides extremely gentle cleaning, preventing all mechanical damage - small scratches. Ultrasonic cleaning can be done for such items. Jewelry and accessories : necklaces, bracelets, rings, earrings, badges, vintage coins.
Medical, cosmetological, manicure, hairdressing and dental tools: Scalpel, scissors, pliers, laboratory equipment, hooks, tweezers, cutters, attachments, files. Household appliances and office equipment: Printer heads, Disks (CD, VCD, DVD). Auto parts: injectors, spare parts, bearings. Santeh devices, tools: Cranes, nozzles of mechanisms, spare parts of equipment, tools. Boards, circuits, electrical components, pcb boards.
The advantages of an ultrasonic bath include. Quickly and efficiently able to cope with the thorough cleaning of the master's tools. The cleaning time takes a short time, from one to several minutes.
The presence of an anti-corrosion shockproof housing, which is made of SUS 304 stainless medical steel, makes this device durable and effective. Solid, one-piece design of the bath protects the Board from getting drops and moisture. Availability of an anti-vibration basket.
Depending on the model, the sinks can be equipped with digital and mechanical controls. And also there are models with ultrasound power adjustment from 5 to 100%. In heated models, the cleaning process is faster, easier and more efficient.
With the use of special disinfecting agents, it is possible to carry out cold sterilization of instruments that do not work constantly with blood with the help of an ultrasonic sink. Anti-corrosion coating of SUS 304 stainless medical steel. Ultrasonic frequency - 40000 Hz. Bath material -SUS304 medical stainless steel. Alternating current 220-240V, 50 / 60 Hz.
Heating power - 300 W. 300 x 150 x 100 mm (L x W x H).
280 x 130 x 70 mm (L x W x H). 330 x 200 x 235 mm (L x W x H). Package size -mm (L x W x H). Net weight -4.6 kg. Gross weight -5.1 kg.

---