AZUIZUIF 15L/3.9gallon Industrial Ultrasonic Cleaner with Digital Timer&Heate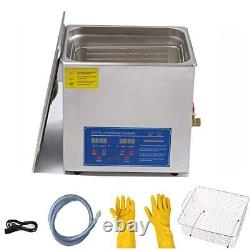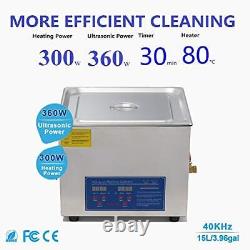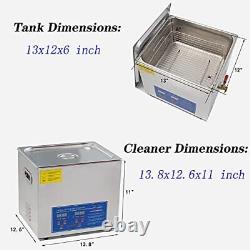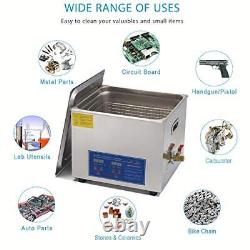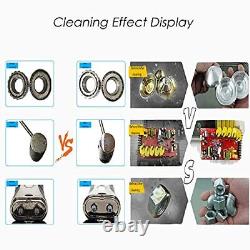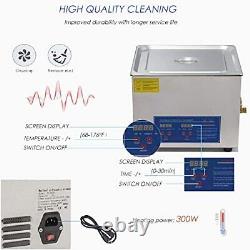 AZUIZUIF 15L/3.9gallon Industrial Ultrasonic Cleaner with Digital Timer&Heater 300W+360W for Screwdriver Repairing Tools Industrial Parts Mental Instrument Apparatus Cleaning 40kHz. POWERFUL & LARGE CAPACITY: ltrasonic power: 360w; heating power: 300w; capacity 15 liters; temperature setting range: 20-80 degrees Celsius68-176? , time setting range: 1 - 30 minutes.
HIGH-QUALITY MATERIALS: The water tank size is 13" × 12" ×6, which can add 3.9 gallons of water (15L). The water tank is made of 304 stainless steel with a thickness of 0.04 inches (1mm), which makes the ultrasonic cleaner more durable.
Equipped with a stainless steel basket allows you to easily put in or take out items, and let Items are cleaned in all directions. SUPERIOR CLEANING OUTCOME: The ultrasonic cleaner can quickly heat to the set temperature to help you clean efficiently.
It can well clean and cavitation small objects with complex structures or irregular shapes. Effective cleaning and cavitation such as grease, lubricants, dirt, corrosion and deposits etc.
And comes with a pair of rubber glove. WIDELY APPLICATION: Used to clean many different types of objects, including jewelry, glasses, lenses and other optical parts, watches, dental and surgical instruments, tools, coins, lab equipment, golf clubs, fishing reels, window blinds, gun parts, musical instruments, industrial parts and electronic equipment. It can be used in kitchens, lab, studios, optical shops, jewelry shops, tattoo shops, hospitals, electronic equipment shops, repair shops, etc.
100% GUARANTEE: High quality product, we promise to do everything possible to satisfy all customers. We are always at the side of our customers to support and continuously seek new ways to improve. Tips: please do not use the machine without water. Power Supply: AC110V 60Hz (US standard plug) 4.
Tank Material: Stainless Steel SUS304 6. Tank Capacity: 15 Liter 7. Time Setting: 0-30 minutes 8. Transducer Quantity: 6 set 9. Temperature Setting: 68-176ºF Adjustable 10.
Tank Size: 13" × 12" ×6 11. Ultrasonic Cleaner Size: 13.8"L x 12.6"W x 11H Available For: Personal or Home Use 1. Jewelry: Earrings, Necklace, Rings, Bracelets, Glasses and Timepieces: Glasses, Sunglasses, Optical Lenses, Contact Lens Accessories, Watch Chains and Waterproof Watches 2. Commodities: Tattoo Guns and Tubes, Electric Shaver Heads, Razor Blades, Dentures, Combs and Toothbrushes 3. Stationery: Pen-heads, Printer-heads, Inkjet Cartridges and Seals 4.
Metal Articles: Ancient Coins, Badges, Valves, Machine Nozzles, Electronics Components and Mechanical Parts 5. Metal Dishware: Forks, Knives, Spoons and Other Small Silverwares etc Package Includes: 1x Ultrasonic Cleaner 1x Instruction Manual 1x Rubber Gloves 1x Steel Basket 1x Drainage Pipe Notice: If the machine needs to be operated for a long time (more than 2 hours per time), you need to stop the unit for 5 minutes after 15 minutes of continuous operation. Or it may damage the unit or severely shorten the service life of the unit. Any product you return must be in the same condition you received it and in the original packaging. We usually respond within 24 hours on weekdays.
Thank you for shopping at our store!

---