DSA70SE-GL2 3L 3.17QT 270W DUAL 20/40KHz DIGITAL HEATED ULTRASONIC PARTS CLEANER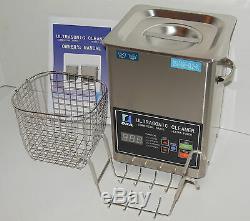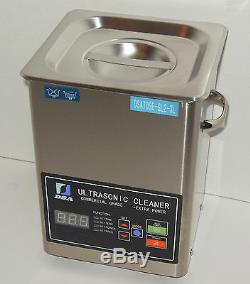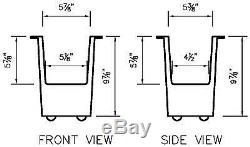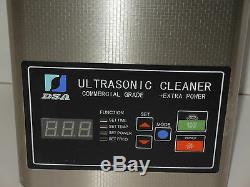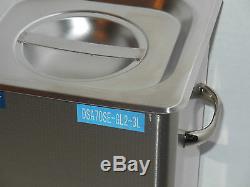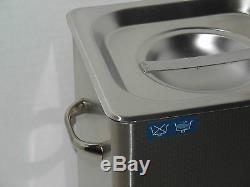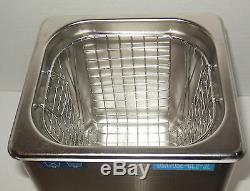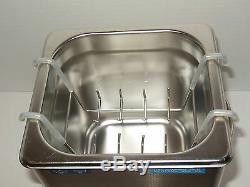 FULL SET OF "COMMERCIAL+EXTRA POWER" SERIES 3L (3.17QT) 270W 20/40KHz DSA70SE-GL2 ULTRASONIC CLEANER. LIQUIDATION SALE - LIMITED QUANTITY AVAILABLE. DUAL 20KHz / 40KHz FREQUENCY SYSTEM. SERIES DSA70SE-GL2 ULTRASONIC CLEANER MACHINE. DSA70SE-GL2 IS FULLY EQUIPPED DIGITALLY CONTROLLED STAINLESS STEEL 3.1 L (3.17 QT) 270W ULTRASONIC CLEANER MACHINE WITH INBOARD BASKET, CLEANING RACK AND TOP COVER LID. 70W OF ULTRASONIC POWER ALONG WITH 200W OF HEATING POWER PROVIDES A 270W OF TOTAL POWER! ISO 9001:2008 QUALITY STANDARDS. DSA70SE-GL2 ULTRASONIC CLEANER SET INCLUDES. Stainless Steel Ultrasonic Cleaner Machine. Stainless Steel Top Cover Lid. New Generation Chrome Steel Inboard Cleaning Basket. Letter SE-GL2 in the model specification, means Special Edition (Commercial Version) of Ultrasonic Cleaner with. Nickel Tungsten Alloy Heating Elements. Strengthened Commercial Grade Transducer(s). Extra Large Tank Capacity (compare with GL1 series). Is recommended for industrial, commercial or frequent usage. Only Commercial Version has the ability to SAVE the last Temperature settings previously used for the next cleaning cycle. New Generation Chrome Steel Inboard Cleaning Basket has the specially designed foldable inner handles.
The basic model has the cleaning basket outer handles which obstruct the top lid cover and allow a cleaning solution to escape from the unit during cleaning process. Only commercial version of Ultrasonic Unit is supplied with the specially designed cleaning basket. The foldable handles in the basket can be hidden inside the basket to prevent the top lid obstruction and provide better top lid placement. Thus, will prevent the possibility of the unit operators skin burns from the hot cleaning solution and prevent unit damage. Chrome Steel Cleaning Rack is recommended for jewelry, dental instruments, tools, tattoo equipment, and many other types of equipment which can be hung instead of being put in the basket to achieve better cleaning results.
To maximize profit, most sellers do not include this expensive Cleaning Rack with their sets. As a promotional offer, cleaning rack will be included with our Ultrasonic Cleaner Set auctions Free of Charge.
ULTRASONIC CLEANER FUNCTIONS COMPARISON CHART. Comparison chart of important Ultrasonic Cleaner functions and features.
3L 270W DSA70SE-GL2 FULL UNIT SPECIFICATION. 5.91 x 5.44 x 5.91. 3.1L / 3.17Qt.
Digitally Controlled Adjustable Ultrasonic Power (W). Digitally Controlled Adjustable Ultrasonic Frequency (kHz). Digitally Controlled Adjustable Timer (min). Digitally Controlled Adjustable Temperature Range.
ACTUAL ULTRASONIC CLEANER UNIT TANK DIMENSIONS. 40KHz ULTRASONIC CLEANERS / MOST POPULAR GENERAL-USE ULTRASONIC FREQUENCY. High-frequency ultrasonic systems generally produce a very evenly distributed cleaning effect, but a less powerful one. 40KHz ultrasonic cleaners are quieter in operation than a 20KHz system, and produces a more gentle cleaning action. It is appropriate for the removal of common contaminants from parts, but may not consistently remove contaminants from tight tolerance areas. 40KHz also has a tendency to remove particles which are smaller than 20KHz. 40KHz ultrasonic cleaners are less destructive to the cleaning tank than 20KHz systems. WHEN TO USE 40KHz ULTRASONIC CLEANERS.
When Cleaning Medium to Heavy Parts. When Removing Most Contaminants Found in Manufacturing Environments. When Parts have Some Detail, but Not ultra-fine Detail, such as small blind holes, threaded areas, and Similar Details.
20KHz ULTRASONIC CLEANERS / HEAVY DUTY CLEANING FOR SIMPLE PART DESIGNS. Although the 20KHz frequency produces a less evenly distributed cleaning effect, the scrubbing action that is produced is very powerful, which can be positive or negative. The power is of benefit when cleaning heavy parts, such as a plastic injection mold weighing 2000 pounds, or cleaning those parts with highly-bonded contaminants, such as burned carbon.
The power is destructive when cleaning sensitive components, such as aluminum or soft metals, or those parts with finely-machined detail. 20KHz system may also remove thicker contaminant layers faster than higher frequencies.
Since 20KHz ultrasonic systems essentially "drill holes" on the surface of the part with a large amount of power, this frequency tends to remove thick layers of contaminants in large chunks, while higher frequencies remove the same contaminants by attempting to gently remove layer by layer. As such, 20KHz systems may be more effective when removing paint, thick greases or coatings, or other similar contaminants. WHEN TO USE 20KHz ULTRASONIC CLEANERS. When Cleaning Large and Heavy Parts with Little Detail.
When Higher Frequencies Fail to Clean a Part. When Cleaning Thick Contaminants Layers. PO BOX, AK, APO/AFO, HI, PR, VI, GU, YUKON, NWT, NU locations. 100% SATISFACTION GUARANTEE Our 100% Satisfaction Guarantee is just one way we stand behind our products and service.
If for any reason this is not the case, you will have 30 days from the day you receive your order, to return the product in its original brand new and uninstalled condition. You must include original packaging, manuals, accessories, etc. If the product is found to be defective, it will be replaced with the same product. Look at the feedback percentage.
The item "DSA70SE-GL2 3L 3.17QT 270W DUAL 20/40KHz DIGITAL HEATED ULTRASONIC PARTS CLEANER" is in sale since Wednesday, November 14, 2012. This item is in the category "Business & Industrial\Healthcare, Lab & Dental\Medical & Lab Equipment, Devices\Other Medical & Lab Equipment".
The seller is "home_spa_outlet" and is located in Henrico, Virginia. This item can be shipped to United States.
Model: DSA70SE-GL
MPN: DSA70SE-GL2
Brand: Desen Precision Instruments Co.



---