Elmasonic S10 H Ultrasonic Cleaner With Heating 0,9 Ltr Ultrasonic Bath Of Elma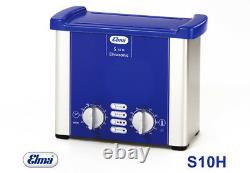 Elmasonic S10 H Ultrasonic Cleaner With Heating 0,9 Ltr Ultrasonic Bath Of Elma. The description of this item has been automatically translated. With us you will find ultrasonic cleaning devices for all purposes. Regardless of whether you use your ultrasonic cleaner as a jewelery cleaner or a braces cleaner, we have the right ultrasonic cleaning device for you, including the associated one liquid. Like for example elma clean 85.
That can be used to clean jewelry. The liquid contained in the ultrasonic cleaner (for example water with cleaning agent) is made to vibrate by the energy generated in the ultrasonic generator (frequency range above 20 kHz).
Smallest bubbles form in the cleaning liquid, which implode and generate powerful pressure impulses and thus clean metals and plastics. Electronic time and temperature control Autostart temperature controlled / temperature preselection Power swing systems Ceramic heater safe to run dry Fast degassing with autodegas / degas Better cleaning performance through sweep Safety shutdown.
Ultrasonic bath Elma Elmasonic S 10 H with heating. For professional ultrasonic cleaning Ultrasonic cleaner with 0.8 liter content and heating Functions: quick degassing with autodegas / degas Internal dimensions tank: 190 x 85 x 60mm Ultrasonic peak power: 240 watts. You will find more products in our shop! Efficient 37 kHz ultrasonic power transducer Cavity-proof stainless steel cleaning tub user-friendly and clear Control unit, sealed that no liquid can penetrate the electronics LED display for ultrasound function Rotary switch for easy preselection of the Cleaning time Continuous or short-term operation between 1 and 30 minutes adjustable the cleaning process can be immediate or be started under temperature control (at H devices) switchable sweep function for optimized Sound field distribution through frequency modulation Degas function for faster degassing of the Cleaning liquid and for special Applications in the laboratory Time-controlled "Autodegas" function selectable dry-running safe heating (for H-units) Temperature setting with rotary switch of 30 ° selectable up to 80 ° C in 5 ° steps (for H devices) LED display for heating function (for H devices) detachable power cord with IEC plugs. Ultrasonic bath Plastic lid Power cord operation manual.
Stainless steel insert basket Basket inner dimensions: 177 x 73 x 30 mm (LxWxH) Basket mesh: 7 x 7 mm (wire thickness 1 mm). Swinging tub inside: 190 x 85 x 60 mm (LxWxH) Outside device: 206 x 116 x 178 mm (LxWxH) Contents: 0.8 liters Working filling quantity: 0.7 liters Working fill height: 50 mm Net weight: 2.0 kg.
Heating control: 30-80 ° C selectable in 5 ° steps Vibrating tank: stainless steel 1.4301 Housing: stainless steel 1.4301 protected against dripping water Handles: no Degree of protection: IP20 Procedure: no Time switch: 1 - 30 min and infinite. Vibration system: ultrasonic power transducer HF generator: overload-proof, constant power Operating mode: double half-wave sound Operating frequency: 37 kHz Heating power: 60 watts Ultrasonic peak power: 240 watts HF power: 30 watts eff.
CE directive 73/23 EWG (EEC) CE directive 89/336 EWG (EEC). Ultrasonic cleaning is widespread and is used, for example, in mechanical engineering and in the jewelry industry to clean metals and plastics. Ultrasonic cleaning always takes place in a liquid medium e. The energy generated by the ultrasonic generator (frequency range above 20 kHz) is converted into mechanical energy by the vibrator.
The molecular connection of the liquid to existing inhomogeneities (contamination, items to be cleaned) is torn apart by sound pressure amplitudes, tiny bubbles are formed in the cleaning liquid which are very unstable. These bubbles implode and generate powerful pressure impulses. This process is known as cavitation. Cavitation causes gentle and intensive cleaning at Allen points that are reached by the cleaning liquid. The right choice of ultrasound machine. The size of the cleaning objects determines the size of the tub and thus the required device type. When selecting the device, the basket dimensions must be taken into account.
To avoid overloading the device, it is advisable to choose a slightly larger device. This also leaves scope for other applications that may be added in future use. Does an ultrasound device have to have a heater?
Heated cleaning liquids shorten the cleaning time. Dirt is removed more quickly in heated liquids. Devices with heating are usually used for cleaning in the laboratory. Do not heat disinfectant liquids, as protein coagulation can occur from 40 ° C, which makes cleaning and disinfection difficult.
Devices without heating are used. The cleaning objects and reaction vessels must never lie on the tub floor.
The hanging basket prevents scratches on the items to be cleaned and the tub floor. Insert vessels for cleaning small parts or for working with aggressive solutions are hung in perforated covers.
The use of plastic hanging trays is necessary when working with acids or when removing acid residues. Which liquids can be used? Basically, the use of mild, neutral or universal cleaning products should be considered before using strongly alkaline or strongly acidic products. Some cleaning tasks can only be solved with special cleaners. These requirements are met by special formulations (for example, coplex former-free preparations for laboratories and electroplating, the optical industry and for high vacuum use).
Water without detergent only cleans to a limited extent. Do not use household cleaners or demineralized water! The selection of a suitable cleaner essentially depends on the following factors: Material of the items to be cleaned Type of contamination Amount of contaminants adhering Why is ultrasonic cleaning carried out? Ultrasound propagates in liquid media in the form of a longitudinal wave. As a result of the acoustic pressure, this leads to compression and thinning.
The tensile forces in the suction phase of the vibration (dilution) can tear the liquid - so-called cavitation occurs; Dissolution processes are accelerated, the resulting currents and swirls in the liquid infiltrate the dirt. Components required for ultrasonic cleaning: The result of ultrasonic cleaning is essentially determined by three components: Device Equipment chemistry. The item "Elmasonic S10 H Ultrasonic Cleaner With Heating 0,9 Ltr Ultrasonic Bath Of Elma" is in sale since Tuesday, February 11, 2020.
This item is in the category "Jewellery & Watches\Jewellery Boxes & Supplies\Cleaners & Polish". The seller is "sksonic-shop" and is located in Mörfelden-Walldorf. This item can be shipped worldwide.
Brand: Elma
Item Number: 100 1214
ISBN: Does not apply
Country/Region of Manufacture: Germany
Manufacturer: Elma

---