Ultrasonic Cleaner 200W Heated Parts Cleaner 2L (1.5L Liquid Capacity) for Small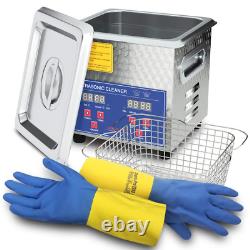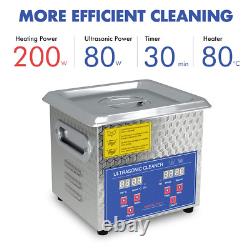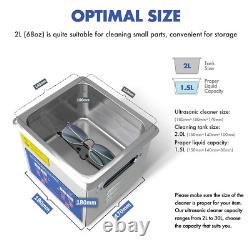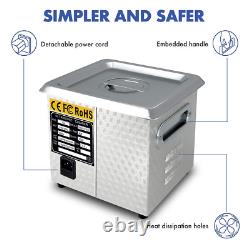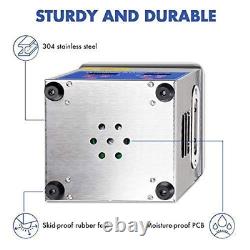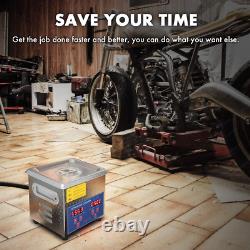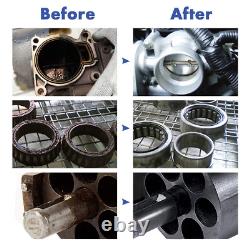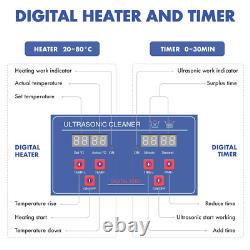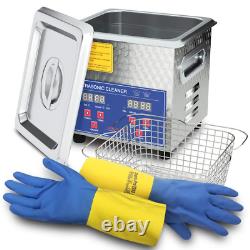 Ultrasonic Cleaner 200W Heated Parts Cleaner 2L (1.5L Liquid Capacity) for Small Carburetors Injectors Guns Bullets Brass and Jewelry Professional Stainless Steel Ultrasonic Bath 2023 Upgrade. 7.1 x 6.7 x 7.1 inches; 5.1 Pounds. Home, repair shop, hospital, auto parts shop, jewelry store. 6.7 inches x 7.1 inches x 7.1 inches.
Restore the Performance of Components: powered by a high-performance industrial transducer, easily cleaning small carburetors, injectors, bicycle parts, gears, bearings and guns. 200W Rapid Heating: efficiently heated cleaning and remove contaminants such as oil, grease, lubricants, dirt, corrosion and deposits.
Safer and Easier: durable 304 stainless steel tank, 2L item capacity and 1.5L liquid capacity, skid-proof rubber feet, special design cooling fan, moisture proofed PCB and detachable power cord. Save Your Time and Costs: once set up and running, you are freed up to perform other tasks while the cleaner looks after itself. DAREFLOW ultrasonic or supersonic cleaner designed as an ultrasonic cleaning solution for automotive workshops, gun shops, scientific laboratories medical facilities and home, it offers very superior cleaning results by saving on consumption costs and labour, and avoiding the use of solvents. 40,000 Hz of ultrasonic energy waves create millions of microscopic cleansing bubbles that gently lift dirt and grime away. The motion of the water may look mild, but it's actually producing a deep and thorough clean to penetrate the most difficult areas.
Our cleaning systems are the perfect option for a great variety of metal parts and waterproof items without damaging them. DAREFLOW Ultrasonic cleaner also offer a wide range of features used to clean many different types of objects, including mechanical and engine components parts, carbs, gun parts, metal, glass, jewelry, dental equipment, surgical instruments, reusable brass firearms, PCB and hard plastic instruments etc.
Professional cleaning of Automotive components/ Motorcycle parts/ Bicycle parts/ Mower carburetor. With the ultrasonic cleaning deposits on the carburetor can be gently removed.
The cavitation bubbles clean the carbs even in hard to reach places and significantly improve the operating behavior of the engine. The DAREFLOW ultrasonic cleaner can also be used for many other cleaning applications. This includes the cleaning of spark plugs, injectors, filters, fittings, screws and many more. If the item you are going to clean is a large carburetor and parts, please chose a 3L/6L or larger model. The safest method of gun cleaning and restoration. Quickly and effectively clean rust, unburned powder, carbon, lint, oil and dirt from steel and stainless steel gun parts and maintain accuracy, integrity and effectiveness of firearms for longer periods. Ultrasonic removal of biological contaminants.
Ultrasonic cleaning of medical equipment, in combination with specifically formulated medical chemicals, removes the build-up of biologics and other deposits such as scale. Surgeries rely on ultrasonic cleaners to increase staff productivity and reduce costs associated with the replacement of improperly maintained surgical instruments. Tank capacity: 2L (Proper liquid 1.5L). DAREFLOW ultrasonic cleaners, CE, FCC and RoHS approved.
Adding the right amount of cleaning solution during cleaning can significantly improve the cleaning effect. Chemical resistant gloves contain natural rubber, it can effectly protect your hands from acid, alkali cleaning fluids and sharp objects. If the machine needs to be operated for a long time (more than 2 hours per time), you need to stop the unit for 5 minutes after 15 minutes of continuous operation. The Heating and ultrasonic power are test values in a standard voltage and environment. In actual use, these properties will vary depending on the self-running loss and voltage fluctuations.
If you have strict special requirements, please consult us before purchasing. 5.9" x 5.5" x 3.9. 9.4" x 5.3" x 3.9.
11.8" x 5.9" x 5.9. 11.8" x 9.5" x 6. 13"×11.8"×5.9. 19.7" x 11.8" x 7.9. 7.1" x 6.7" x 7.1. 10.6" x 6.7" x 7.5. 13" x 7.1" x 10.6.
13" x 10.6" x 10.6. 14.1"×13"×10.6.
21.6" x 13" x 12.6. We guarantee against any defective or misrepresented products.

---