Ultrasonic Cleaning Machine HUGE 6L Tank HEATING 300W Cleaner Ceramic Heater inc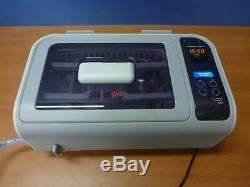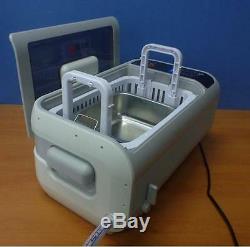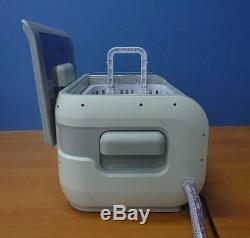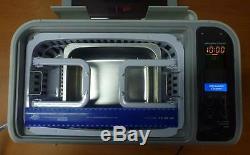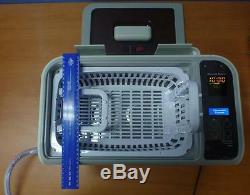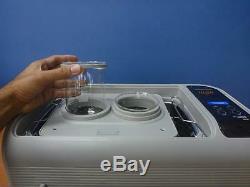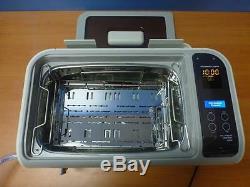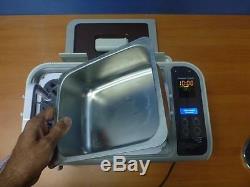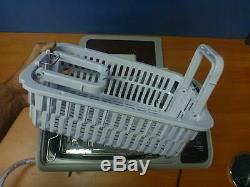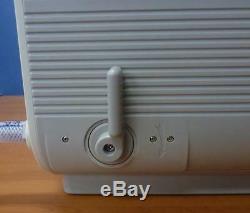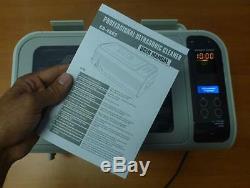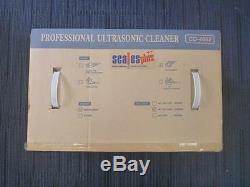 This Ultrasonic Cleaning Machine makes cleaning of small to large pieces simple and easy. With German TUV Approval built to the highest quality and specifications in just 3 minutes jewelry, mechanical components and much more can be cleaned with unmatched efficiency and detail. This advanced machine has an inbuilt Ceramic Heater to economically and effectively clean oily and sticky residue from the items you want to clean.
This Ultrasonic Cleaning Machine features. Large 6lt (6 Litre) Stainless steel cleaning compartment. For simple use and easy drying. Large enough to fit bigger items such as guns and firearms. High grade Stainless Steel \ Corrosion Resistant. Heating Element with Adjustable Temperature. Heats water up to 65 degrees or set to your requirements - hot enough to remove grease \ oil \ wax and other buildup from articles to be cleaned.
The Heat function can easily be switched on \ off and adjusted with the operational keys. Actual temperature and set temperature are displayed on the LCD.
Strong Transducer \ Circuit Protector \ Two Cooling Fans. Optimal cleaning results every time combined with intelligent design for a very long service life. For separately placing multiple items for example small pieces of jewelry, and for easy removal of items from the hot water Stainless Steel Tray. Beaker and Double Beaker Holder. Maintaining a peaceful working environment. Adjustable from 1 to 30 minutes. Observation window \ Removable Lid. For easy viewing and stylish appearance and for loading extra large items to the tank. Attractively packaged in retail display box with detailed user manual.
Makes for an ideal gift and also attractive product for resellers - we are a wholesaler. Can be used in wet environments and when working with liquids or chemicals.
6L Stainless Steel Tank \ Waterproof \ Digital Timer Display. Super Large Capacity, Tank Dimensions 323 x 205 x 99mm (12.7 x 8.1 x 3.9 inch). This machine features 3 1 0 Watts of True Ultrasonic Power. Fr eque nc y is 35,000Hz.
This model is our strongest and most powerful machine, boasting two ultrasonic transducers and two ceramic heaters cleaning the following items highly effectively and efficiently. Silver, Brass or copper parts. Brass fittings, silver tableware, goblets etc.. Necklaces, rings, earrings, bracelets, etc..
Pneumatic valves, overflow valves, fuel injection nozzles, bearings, gears, etc. Cleans oil off with ease, giving the machinery an'as new' appearance.
Glasses, sunnies (sun glasses), contact lenses, etc.. Test tubes and other equipment. Dental drills, dental forceps and other equipment. Watches, watch chains, small watch parts. Electric shaver heads, razor blades, dentures, retainers, combs & brushes, toothbrushes, baby bottles.
Pen heads, printer heads, cassette heads. Ancient coins & antiques, badges, valves, machine nozzles.
Silver, gold, copper, diamonds and other gems. Small utensils, cups and plates. Spent brass casings, guns and pistols including larger firearms. Ideal for case cleaning - our customers tell us this machine provides a far superior clean than vibratory cleaners.
Tiny bubbles can be seen forming on the articles as they are being cleaned. No detergent or other chemicals are required to clean but can be used when articles contain very greasy or sticky residue, in addition to the heating element this machine can clean the most stubborn stains.
Patented Design with CE Approval and German TUV Approval , attractively packaged in a retail display box with detailed user manual and serial number on the base of the unit. This machine is suitable for use worldwide with plug adapters fitted (1x free Plug Adapter included for your region, if the plug type is different to the Australian type). Voltage transformer may also be required this machine is 240V. We'll get back to you as soon as possible. The item "Ultrasonic Cleaning Machine HUGE 6L Tank HEATING 300W Cleaner Ceramic Heater inc" is in sale since Wednesday, July 5, 2017.
This item is in the category "Jewellery & Watches\Jewellery Design & Repair\Tools\Other Tools".electronics" and is located in Bentley, WA. This item can be shipped worldwide.
Brand: Scales+
MPN: CD-03

---