VEVOR 3L 6L 10L 15L 22L 30L Electric Ultrasonic Cleaner Portable Washing Machine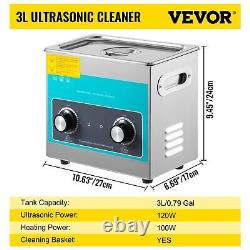 VEVOR 3L 6L 10L 15L 22L 30L Electric Ultrasonic Cleaner Portable Washing Machine. VEVOR 3L 6L 10L 15L 22L 30L Electric Ultrasonic Cleaner Portable Washing Machine Lave-Dishes Diswasher Ultrasound Home Appliance. 2/3/6/10/15/22/30L Ultrasonic Cleaner with Heater. This is a high efficiency ultrasonic cleaner used for daily or professional cleaning works. It will emit 40KHZ ultrasonic wave to deeply wash dirt on your valuable's surface, longhole, crevice and shelter.
With heating & timing function, use only tape water, if needed, some solutions, your things can be cleaned thoroughly in minutes. No scratching created, great for business, commercial or home.
Note: Since our ultrasonic cleaner has been upgraded & updated, the product (in metal or plastic handle) will be delivered randomly. Tough Equipment & Tools, Pay Less. VEVOR is a leading brand that specializes in equipment and tools. Along with thousands of motivated employees, VEVOR is dedicated to providing our customers with tough equipment & tools at incredibly low prices.
Reminder:Since the heating plate is at the bottom, there is a certain difference between the temperature displayed on the panel and the water surface temperature, but it does not affect the use of the product. 304 stainless steel tank, better to resist alkali solution, organic/inorganuc acid than normal SUS200 products.
201 stainless steel cover, made up of several crafts to ensure no water leakage, heat-proof & anti-rust. Industrial-level transducer, create more cavitation quantity than 28KHz products. Do well in cleaning stuffs with complex shape, holes, long-time stians. Also, it will cause much lower nouse than ultrasonic waves nearly 20KHz.
Large 2/3/6/10/15/22/30L Tank & Basket. Tank Capacity: 2/3/6/10/15/22/30L; Large Basket Material: Stainless Steel; With a ball-shaped jewelry cleaning basket, use tap water for general cleaning, can also add 5-10 ML detergent into water to enhance wash result if needed. Adjustable Heat & Work Time. Actual 600W cleaning work time(0-30 minutes adjustable); Also can heat the liquid between 20-80? Micro-chip controlled machine, with 2 mechanical knobs to adjust functions.
Get brand new valuables after it finished. Handles at both side for easier movement. And the top lid is to prevent heat loss and reduce noise. Right side water drain connector with valve to control water outlet speed.
4 bottom rubber feet to keep stability. Suitable for many fields to use-Jewelry: earrings, necklace, diamond; Glasses: sunglasses, optical lenses, contact lenses; Dental: razor blades, dentures, tattoo guns; Dishware: Forks, Knives, Spoons, valves etc. Input:110(US)/220V(EU, AU). Heating Function: 500W(Power); 20-80? Product Size (L x W x H): 20.9?
/53 x 33.5 x 34 cm. 1 x Jewelry Cleaning Ball. 1 x Stainless Steel Cover. Heating Function: 400W(Power); 20-80?
Tank Size (LWH): 11.8? /30 x 24 x 15 cm. Product Size (LWH): 12.8? /32.5 x 26.5 x 28 cm.
Product Weight: 17.3 lbs/7.85 kg. Tank Size (LWH): 9.45? Item Size (LWH): 10.63?
Product Weight: 8.16 lbs/3.7 kg. 1 x Ball-Shaped Cleaning Basket. Item Size: 7"x6"x8/175x160x210 mm. Inner Size: 6"x5"x4/150x135x100 mm. Basket Size: 5.7"x5"x3.7/145x125x95 mm.
1 x Ball-shaped Cleaning Basket. Product Size: 20.9×13.2×11.6? Product Weight: 21.6 lbs/9.82 kg.
Heating Function: 300W(Power); 20-80? Product Size: 13×7.1×11.2? Ultrasonic Power: 60/100/180/240/360/480/600W; Frequency: 40KHZ; Heating Power: 100/120/300/300/400/500/500W; 304 stainless steel tank, anti-corrosion to different kinds of solutions.
Anti-rust with longer service time. Great product to clean your things, get rid of heavy manual works. Support adjustable of heating temperature20- 80? And working time(0-30 minutes). Heating can help decrease the adhesive strength of oil and wax to certain stuffs, save time & labor for yopu.
Strengthened 40KHz ultrasonic power, works great to remove oil, wax, stain in holes, surface, crevice etc. 30L big tank to hold more goods a time and it is low noise on use. Never disturb your other works. This tabletop ultrasonic washer is designed for better customer use: portable handle, heat dissipation, anti-slide rubber feet, lid and knobs to adjust functions. Have pass the tests of CE, FCC, RoHs. Perfect for industries of lab, food, biology, medicine, agriculture or daily stuff cleaning. We will help you as soon as possible. So, you can shop with peace of mind. You must return items in their original packaging and in the same condition as when you received them.
We will solve all your queries to stay on the top. This item is in the category "Jewelry & Watches\Jewelry Care, Design & Repair\Jewelry Cleaners & Polish". The seller is "hridzp" and is located in this country: US.
This item can be shipped to United States.
Color: 3 L
Ships from: United States
Brand: VEVOR
Type: Ultrasonic Cleaner
Certification: CE
Power (W): 60-600
Voltage (V): 110/220
Capacity: 2-30L
Origin: Mainland China
Material: Stainless Steel
Ultrasonic Frequency: 40KHZ
Working Time: 1-20 Minutes
Cleaning Power: 180-600W
Heating Function: 200W(Power); 0-80℃ Heating Temperature
30L Product Size (L*W*H): 21.6x13x14.1inch
22L Product Size (L*W*H): 21.6x13x12.2inch
15L Product Size (L*W*H): 14.1x13x11.2inch
10L Product Size (L*W*H): 12.8x10.4x11inch
6L Product Size (L*W*H): 12x7x12.5inch
3L Product Size (L*W*H): 10.63x6.69x9.45inch
2L Product Size (L*W*H): 7x6x8inch
Feature 1: home appliance
Feature 2: ultrasonic cleaner

---